Ah, the freedom of working from your comfy couch, clad in pyjamas, and with a steaming cup of coffee by your side! This dreamy scenario became a reality for many as global events propelled companies into the realm of remote work. It's a big, wide, virtual world out there with employees and employers treading the waters of the remote working model. But as you settle into this new routine, navigating through your daily tasks amidst home distractions, there's a virtual eye that might just be keeping tabs on your workday hustle. Yep, it's the era of employee monitoring.
Now, don't let that send shivers down your spine. This shift isn't about fostering a Big Brother culture, but about ensuring that the work gets done, and the productivity scales don't tip unfavourably. As many employees are relishing the liberty that comes with working remotely, employers are finding it essential to monitor employees to keep the workflow streamlined and accountable.
This post aims to unravel the digital threads of how employers are keeping a check on their remote employees. It's a delve into the tools, technologies, and legal frameworks enveloping employee monitoring. Whether you're an employee striving to stay on the right side of the monitoring policies, or an employer ensuring that your team is on the productive path, this piece is poised to shed light on the facets of remote work monitoring. So, shall we venture into the virtual monitoring realm together?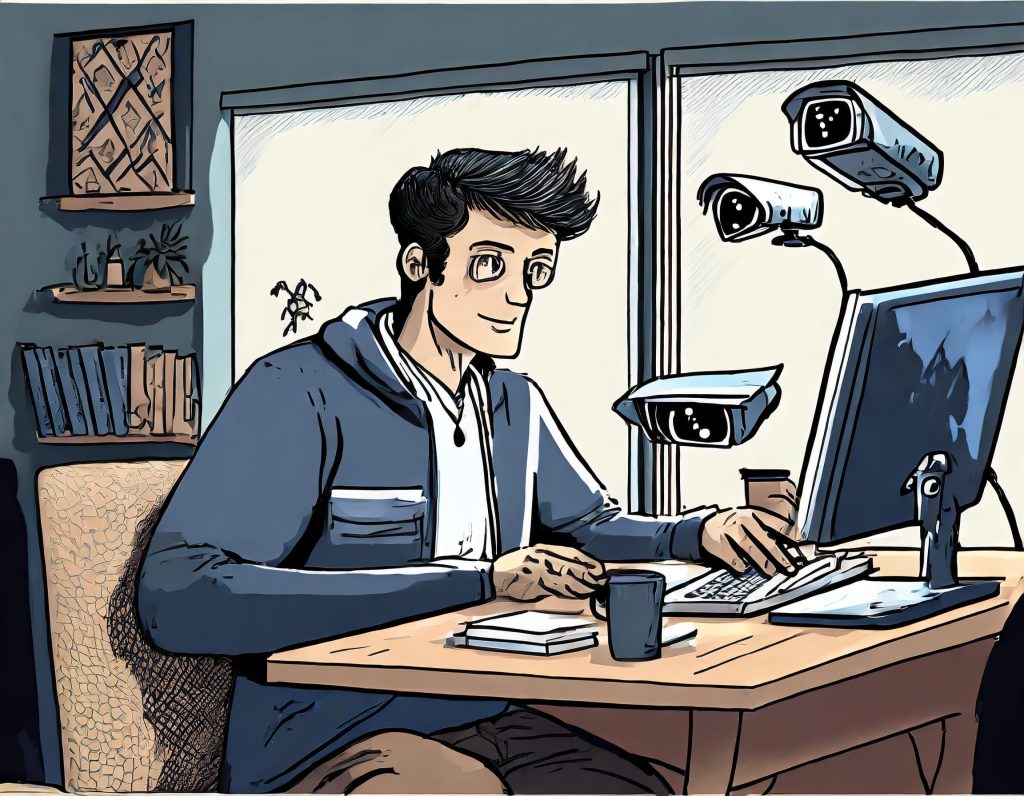 Understanding Employee Monitoring
The concept of employee monitoring isn't a novel one; it has merely morphed to fit into the digital landscape. Historically, monitoring was simpler in physical offices where a quick stroll around could give managers a good idea of who's hard at work and who's hardly working. However, as employees trade office desks for kitchen tables, employers are adopting digital avenues to monitor employees working remotely.
Definition and Purpose of Employee Monitoring:
Employee monitoring, in a nutshell, is the use of various tools and software to keep a tab on remote employees' activities during work hours. The primary intent? To ensure that the work is being done efficiently and to uphold a level of accountability amidst the newfound flexibility of remote work. It's also a way for employers to understand how work gets done, which can be insightful for making operational improvements.
Legal Framework Around Employee Monitoring
Now, before you picture your employer turning into an omnipresent overseer, it's crucial to know that there are legal boundaries governing employee monitoring. In the U.S., the Electronic Communications Privacy Act (ECPA) provides some regulation, although it leans more towards the employer's right to monitor, especially on company-owned devices and networks. However, the legislation could differ in Australia state-by-state, so it's essential to have a clear understanding of the local laws governing employee monitoring.
One of the first things you might want to do is to take a peek at your employment agreement. It often contains clauses that explain the extent to which monitoring occurs. Employers are generally required to inform employees about the monitoring practices in place, which is often outlined in the employment agreement or company's IT policy. So, if you haven't already, it might be a good time to dust off that document and give it a read.
This section is merely skimming the surface of the legal framework surrounding employee monitoring, but it's a start to understanding the what and why before we dive into the how of monitoring employees working from home in the following sections.
Tools and Technologies Employed
As we delve deeper into the digital era, the tools designed to monitor employees have become more sophisticated and diverse. They range from simple time-tracking apps to comprehensive monitoring software capable of capturing every keystroke. Let's unravel some of these tools and the types of data they can collect.
Overview of Employee Monitoring Software:
Employee Monitoring and Tracking Software: Monitoring software is like the backbone of remote employee management. It's designed to provide employers with a transparent view of employee activity during work hours. These software, like employee monitoring software and employee tracking software, are crafted to collect data that helps in assessing employee productivity and ensuring that company resources are utilised effectively.
Making Data Collection Streamlined: Monitoring software makes collecting data a breeze for employers. It automates the process, ensuring that the data collected is accurate and reflective of employees' work habits. This data is often used to identify areas of improvement, allocate resources better, and sometimes, even to commend outstanding employee performance.
Types of Data Collected:
Screen Recordings and Activity: Some monitoring software provides real-time recordings or screenshots of employees' desktops. This feature is often used to ensure that work-related tasks are being performed and to provide assistance or feedback when necessary.
Electronic Activity: Monitoring tools can also track electronic activity such as email, social media sites, and internet usage. This extends to monitoring social media messages, subject lines of emails, and sometimes, even the content of electronic communications. It's a way for employers to ensure that company resources are being used appropriately and that sensitive information remains secure.
Time Tracking:
Logging Work Hours and Idle Time: Time tracking tools are a boon for both employees and employers. They help in logging work hours, breaks, and idle time, providing a clear picture of how work time is being spent. It's not just about keeping tabs, but about understanding work patterns to possibly enhance productivity.
Real-Time Recordings: Some time-tracking software goes a step further by offering real-time recordings, allowing managers to view an employee's screen in real-time. This can be particularly useful in understanding the challenges an employee might be facing and offering immediate assistance.
The depth and breadth of monitoring can vary significantly from one employer to another, and being aware of these tools can help remote workers navigate the virtual work landscape more effectively while staying in line with employer expectations.
Monitoring Methods
As you're now armed with a basic understanding of the tools available for employee monitoring, let's delve into the various methods employers use to keep tabs on their remote teams. Each method serves a unique purpose, and often, a combination of these methods is employed to get a comprehensive view of employee performance and behaviour.
Network Monitoring
Company Network and Computer: When you're logged into the company network or using a company computer, chances are, your activities are being monitored. Employers often have software installed on company computers to monitor employees working remotely. This could range from checking which websites are being accessed, how long certain applications are being used, to even tracking file transfers.
Communication Monitoring:
Workplace Collaboration Tools: The digital age has blessed us with a myriad of workplace collaboration tools like Slack, Microsoft Teams, or Google Meet. While these platforms are designed to foster communication and teamwork, they also provide a channel for employers to monitor communications. This can include checking message contents, files shared, and the frequency of communication between team members.
GPS and Location Tracking:
Field Workers and Delivery Drivers: For roles that require mobility like delivery drivers or field service technicians, GPS tracking is often employed. Employers can monitor the whereabouts of their team in real-time, ensuring that tasks are being completed efficiently and in a timely manner.
Physical Surveillance:
Cameras and Warehouses: Although more relevant in a physical workspace, in certain scenarios, employers might install cameras to monitor employees. This is more common in warehouse settings or other areas where physical presence is required. While this isn't typical for remote workers, it's a part of the broader monitoring spectrum.
These methods illustrate the extent to which technology can aid employers in monitoring employees working remotely. As we navigate through these methods, it's evident that the line between ensuring productivity and infringing on privacy can sometimes blur. This brings us to our next discussion point, the impact of monitoring on employee productivity and privacy, which is a hot topic in the remote work landscape.
The Impact on Employee Productivity and Privacy
The quest for maintaining a productive and accountable workforce has led employers down the path of meticulous monitoring. However, the ripple effects of these monitoring practices on employee productivity and privacy are topics that warrant a hearty discussion.
Boosting Employee Productivity:
Monitoring can act as a catalyst for boosting employee productivity. When employees are aware that their work is being monitored, it often nudges them to stay focused and manage their time wisely. The data collected can also be used to identify bottlenecks, streamline processes, and provide personalised feedback, all of which can significantly enhance productivity.
The Privacy Conundrum:
Finding the Balance: The other side of the coin presents a significant concern—employee privacy. The digital eye can sometimes feel intrusive, especially if monitoring extends into private conversations or non-work related activities. It's a delicate balance that employers need to strike. Ensuring that employees are informed about what is being monitored and why can help in maintaining a level of trust.
Privacy Policies and Counsel: It's essential for companies to have robust privacy policies in place. Engaging privacy counsel to draft and review monitoring policies can help in ensuring that they are in line with legal requirements and ethical standards. Employees should also be encouraged to review these policies and seek clarification if needed.
The duality of employee monitoring – it can be a tool for fostering a culture of accountability and enhancing productivity, yet it also poses challenges to maintaining a respectful and trusting work environment. Employers and employees need to engage in open discussions to navigate this complex landscape successfully. Read more to find tips for employees to remain productive and compliant while working remotely, and for employers on how to implement monitoring practices responsibly.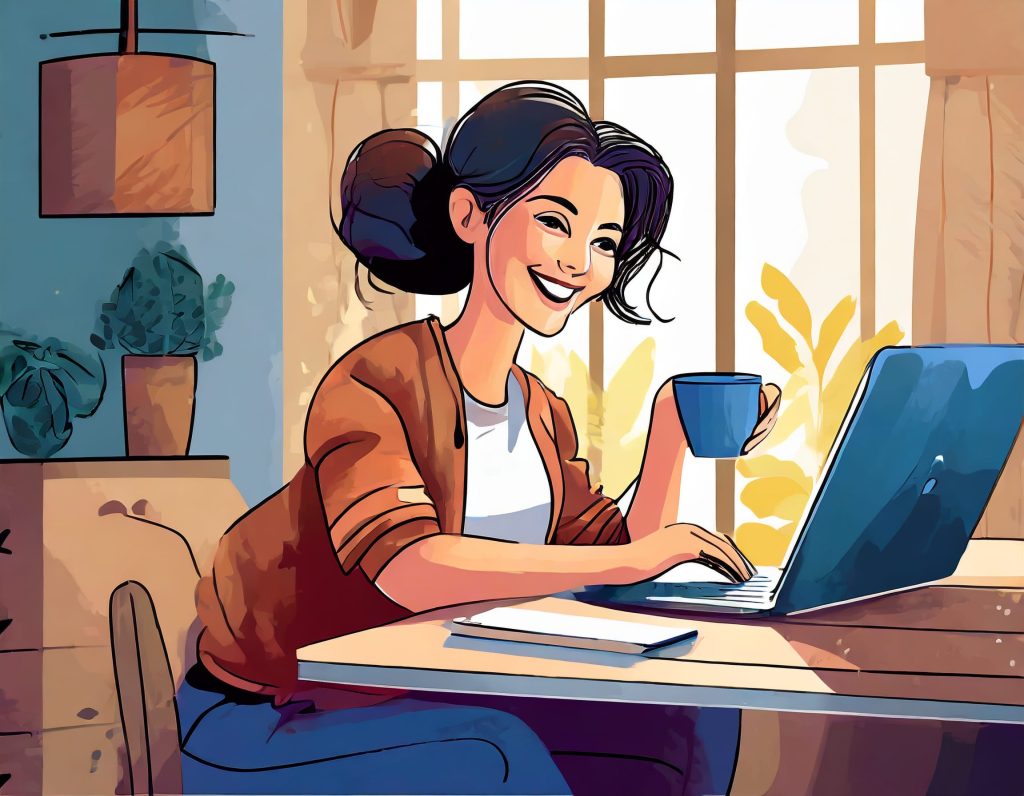 Tips for Employees
Embarking on the remote work journey comes with its fair share of challenges and learning curves. As you navigate through the monitoring mechanisms put in place by your employer, here are some tips to help you stay on the right path:
Awareness of Monitoring Tools: Get familiar with the monitoring tools and software your employer uses. Understanding the extent and purpose of monitoring can help set the right expectations and reduce any anxiety associated with being monitored.
Staying Focused and Managing Time Wisely: Utilise time-tracking tools to your advantage. They can provide valuable insights into your work patterns and help in better managing your time. Embrace the monitoring as a motivation to minimize distractions and stay focused on your tasks.
Keeping Personal and Professional Separate: It's wise to keep personal browsing and social media usage to your personal devices. Avoid using the company computer for private conversations or browsing job search sites during work hours. This not only helps in maintaining a professional demeanor but also ensures that your privacy is not infringed upon.
These tips can help in creating a conducive work environment that respects the employer's need for accountability while also safeguarding your privacy and personal space.
For Employers: Striking a Balance
Employers, the ball is in your court to create a monitoring environment that is transparent, lawful, and respectful of employee privacy.
Transparent Communication: Be upfront about your monitoring practices. Clearly communicate the tools being used, the data being collected, and the purpose behind monitoring. Transparency fosters trust and understanding between you and your team.
Fostering a Trust-based Work Culture: While monitoring tools provide data, it's essential to remember the human aspect of your workforce. Foster a culture where employees feel trusted and valued, not just monitored.
Responsible Use of Monitoring Software: Employ the data collected responsibly. Use it to improve processes, provide constructive feedback, and enhance the overall work environment. Avoid delving into micro-management, which can be detrimental to employee morale and productivity.
Office Collaboration Tools
In the realm of remote work, office collaboration tools serve as the linchpin that holds teams together, fostering communication, project coordination, and a sense of community amidst the digital divide. Tools like Slack, Microsoft Teams, Zoom, or Google Meet have become the virtual boardrooms where ideas are exchanged, projects are brainstormed, and decisions are made.
For employers, these platforms are not just channels of communication but also a way to gauge the pulse of team collaboration and productivity. They offer features like file sharing, real-time messaging, video conferencing, and sometimes, integrations with other software used in your operations. They can also provide insights into the frequency and quality of interactions among team members, which can be indicative of the team's synergy and engagement.
Employing these tools responsibly means fostering an environment where employees feel free to communicate and collaborate without the overbearing feeling of being monitored. It's about striking a balance between facilitating teamwork and respecting employee privacy. Clear guidelines on the usage of these tools, along with an open dialogue on what aspects are monitored, can help in building a trust-based culture, essential for the success of remote working dynamics.
Employers and employees share the responsibility of creating a conducive remote work environment. Open dialogue, understanding, and respect for each other's concerns and expectations are the foundations for a successful remote work setup.
Conclusion
As we wrap up our venture into the virtual monitoring realm, it's evident that the transition to remote work has propelled both employers and employees into uncharted territories. The essence of trust, transparency, and understanding forms the bedrock of a successful remote work environment, amidst the maze of monitoring tools and technologies.
The digital eye of employee monitoring serves as a bridge to ensure accountability and productivity in a dispersed workforce. However, the bridge needs to be tread upon with a blend of awareness, respect for privacy, and a continual dialogue between employers and employees. It's a journey of finding the right balance between leveraging technology for operational efficiency and fostering a culture of trust and respect.
Employers, your approach to monitoring can significantly impact your team's morale and productivity. Engaging in open communication about your monitoring practices, and employing the data collected responsibly, can pave the way for a harmonious remote work culture.
Employees, embracing the monitoring practices with an understanding and a focus on showcasing your diligence and productivity can help in building a positive rapport with your employer.
The remote work landscape is ever-evolving, and as we navigate through it, adapting to the changing dynamics with an open mind and a collaborative spirit can lead to a mutually beneficial and successful remote work experience.
With this, we've unraveled the layers of how employers monitor employees working from home, the legal frameworks, the tools involved, and the impact on productivity and privacy. It's a topic that will continue to evolve as the remote work model becomes more ingrained in our professional lives. So, whether you're an employer or an employee, staying informed and engaged is the key to navigating this new norm successfully.