Welcome to the world of remote work, where your home becomes your castle of productivity! If you've recently joined the ranks of remote workers or are looking to revamp your existing home office, you're in the right place. In this post, I'll guide you through the essential tools and tips to create an effective and comfortable workspace right at home.
Gone are the days of impromptu setups at the kitchen table or juggling work from the couch. A well-thought-out home office setup not only boosts your productivity but also helps maintain your physical and mental well-being. From ergonomic furniture to tech gadgets that make life easier, we'll cover everything you need to know.
So, whether you're a seasoned remote professional or just starting, let's dive into the world of home office essentials. By the end of this post, you'll be equipped with all the knowledge to create a space that not only looks great but also enhances your work-from-home experience. Let's get started!
Disclaimer: As an Amazon Associate I earn from qualifying purchases.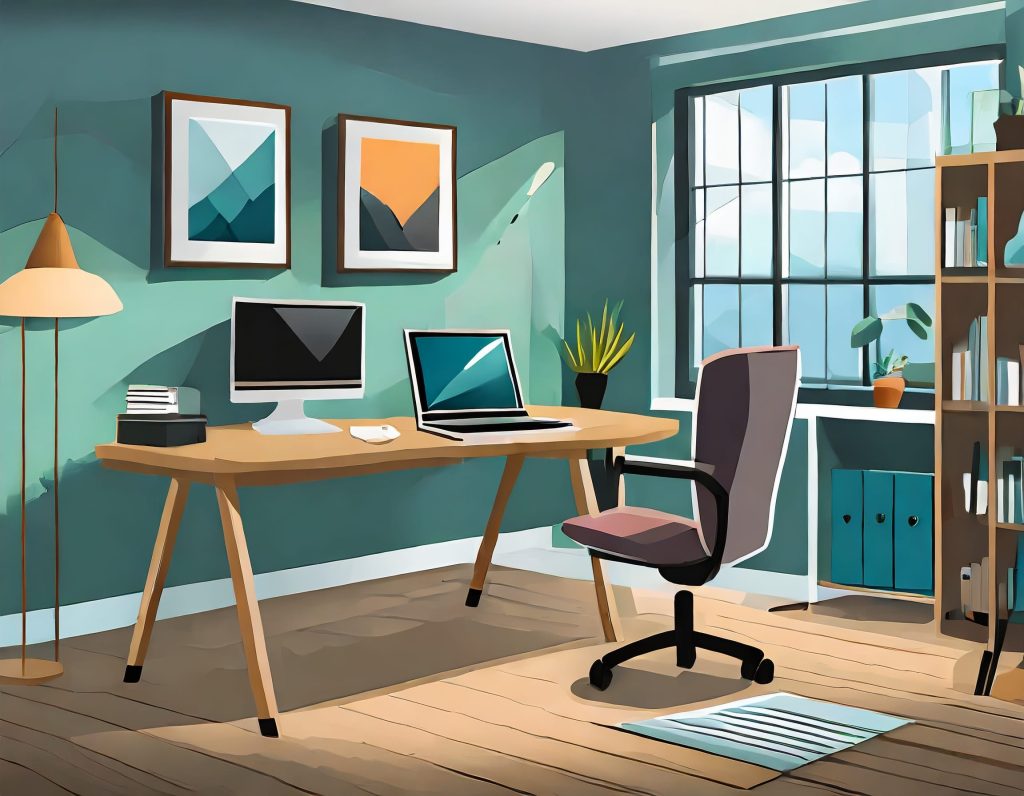 1. Ergonomic or Standing Desk: The Foundation of Your Home Office
Elevating Your Work Experience
The cornerstone of any home office is the desk, and in recent years, the standing desk has emerged as a popular choice for remote workers. Why? Because it offers the flexibility to switch between sitting and standing, reducing the risks associated with prolonged sitting, like back pain and decreased circulation. But it's not just about standing all day. The key is in the adjustability – allowing you to alternate between positions for optimal comfort and productivity.
Choosing the Right Desk
When selecting a standing desk, consider factors like size (to fit your workspace and equipment), height range (for ergonomic alignment whether you're sitting or standing), and stability (to ensure it doesn't wobble with every keystroke). Don't forget to look at the ease of height adjustment – manual or electric – depending on your preference and budget.
If a standing desk isn't your cup of tea, fret not. An ergonomic traditional desk can also serve you well. Ensure it has enough space for your computer, accessories, and any other work from home essentials, with room to spare for easy movement.
2. Ergonomic Office Chair: Your Throne of Comfort and Productivity
Why a Good Chair Matters
Sitting is something we do for several hours a day, especially when working from home. This is where an ergonomic office chair comes into play. It's not just a seat; it's a support system for your back, neck, and posture. A well-designed chair can make a world of difference, reducing the risk of chronic pain and increasing comfort during those long work hours. For a top-notch example, consider Herman Miller's Aeron Chair, known for its comfort and ergonomic design.
Key Features to Look For
When shopping for an ergonomic chair, focus on adjustability – the more you can customize it to your body, the better. Look for features like adjustable armrests, lumbar support, seat height, and tilt functions. These adjustments ensure that your feet are flat on the ground, your thighs are parallel to the floor, and your arms are at the same height as your desk – the ideal posture for working.
Comfort and Health
Beyond adjustability, consider the material and breathability of the chair, especially if you're going to be sitting for long periods. A chair with good back ventilation and a comfortable seat can significantly improve your work experience.
3. Laptop Stand: Elevating Your View and Comfort
The Power of Proper Positioning
In our home office, the laptop is often our primary tool, but using it flat on a desk can lead to neck strain and poor posture. This is where a laptop stand becomes invaluable. It raises your laptop screen to eye level, aligning it ergonomically with your gaze and helping reduce neck pain and eye strain. Plus, it adds a professional touch to your workspace, especially during video calls and virtual meetings.
Types of Laptop Stands
Laptop stands come in various designs – from adjustable and portable to stationary models. An adjustable stand is particularly useful as it allows you to find the perfect height and angle for your comfort. If you're someone who likes to switch work locations, say from your home office to a coffee shop, a portable stand can be a great companion.
Ergonomic Benefits
An often overlooked benefit of a laptop stand is the improved airflow around your device. Keeping your laptop cool is crucial for its performance and longevity. Plus, an elevated laptop often means more desk space for your notes, coffee mug, or other devices.
4. Efficient Power Solutions: USB Power Strip with Surge Protector and Cord Organiser
Powering Up Your Workspace
In our tech-driven work environment, managing power supply efficiently is key. A USB power strip with a surge protector is not just a convenience; it's a necessity. It allows you to charge multiple devices simultaneously – from your laptop, phone, to other gadgets – while protecting them from power surges. This is especially important for safeguarding your expensive equipment against electrical fluctuations.
Tidying Up with a Cord Organiser
Alongside power management, cord organisation is crucial. A cluttered desk with tangled cords can be distracting and even hazardous. A cord organiser simplifies your workspace, reduces clutter, and helps maintain a clean and professional look in your home office. It's not just about aesthetics; it's about functionality and safety.
Choosing the Right Power Strip and Cord Organiser
When selecting a USB power strip, consider the number of outlets, USB ports, and the length of the cord to ensure it fits your workspace and needs. For cord organisers, look for something sturdy yet flexible, capable of handling a variety of cord sizes.
5. Enhancing Comfort and Posture: Posture Support and Under-Desk Footrest
The Importance of Good Posture
Maintaining good posture is vital when you're spending hours at your desk. It's not just about comfort; it's about long-term health. Incorporating posture support tools into your home office can make a significant difference. These tools can range from lumbar pillows to ergonomic seat cushions, all designed to support your spine's natural curve and prevent slouching.
Under-Desk Footrest for Added Comfort
An under-desk footrest is another essential that often goes unnoticed. It plays a crucial role in maintaining proper leg position and circulation, especially if your feet don't comfortably reach the floor. A footrest helps keep your feet elevated at the right angle, reducing strain on your legs and lower back.
Selecting the Right Tools
When choosing posture support, look for products that are adjustable and fit the contour of your body. For footrests, consider the height and material – you want something that's comfortable, non-slip, and possibly adjustable.
6. Audio Essentials for Virtual Meetings: Noise-Cancelling Headset and USB Microphone
Crystal-Clear Communication in Remote Work
In the realm of remote work, clear audio is non-negotiable, especially during virtual meetings and conference calls. A noise-cancelling headset is a game-changer, offering clarity and focus by blocking out background noise. Whether it's the hum of a coffee shop or the hustle and bustle of home life, a good headset ensures you can hear and be heard without distractions.
The Role of a USB Microphone
While many headsets come with built-in microphones, a dedicated USB microphone can take your audio quality to the next level. It's particularly useful for those who engage in frequent video calls, webinars, or any professional requiring high-quality vocal clarity. A good USB microphone delivers crisp, clear audio, making your communication more effective and professional.
Choosing Your Audio Gear
When selecting a noise-cancelling headset, comfort is key. Look for one with cushioned ear pads and an adjustable headband for extended use. For USB microphones, consider pickup patterns, portability, and compatibility with your devices.
7. Optimising Screen Space: The Benefits of a Second Computer Screen and External Monitor
Expanding Your Digital Workspace
In a home office, screen space is akin to physical desk space – the more you have, the more efficiently you can work. Adding a second computer screen or an external monitor to your setup can drastically improve your productivity. It allows you to have multiple windows open side by side, reducing the time spent switching between tasks and enhancing your workflow, especially during tasks that require constant reference, like coding or graphic design.
The Advantages of an External Monitor
An external monitor offers more than just additional screen space; it can also be a significant upgrade in terms of resolution, size, and eye comfort. High-resolution monitors reduce eye strain and make everything from reading text to editing photos a more pleasant experience. Also, the larger screen size can help in reducing neck movements and focusing on your work for prolonged periods.
Choosing the Right Screen
When selecting a second screen or an external monitor, consider factors like screen size, resolution, and connectivity options (like HDMI or Bluetooth connection). Compatibility with your current laptop or computer is crucial, as well as the monitor's adjustability in terms of height and angle.
8. Productivity and Organisation Tools: Maximising Efficiency in Your Home Office
Harnessing Technology for Better Productivity
In the landscape of remote work, staying organised and maintaining productivity can be challenging. Thankfully, technology comes to the rescue with a variety of tools and apps designed to keep you on track. Productivity apps or timers can be a real boon, helping you manage your to-do list, stick to a schedule, and maintain a healthy work-life balance. Whether it's setting reminders for breaks or tracking time spent on tasks, these tools are essential in a well-functioning home office.
The Role of Phone Stands and Wireless Phone Chargers
Amidst our reliance on technology, keeping your devices accessible and charged is crucial. A phone stand not only keeps your smartphone at an ideal angle for quick glances or video calls but also helps in keeping your desk organised. Pair it with a wireless phone charger, and you've got a convenient, cable-free solution to ensure your phone is always powered up and within reach.
Selecting the Right Tools for Your Needs
When choosing productivity tools, consider ones that sync across your devices for seamless access, whether you're on your laptop, tablet, or phone. For phone stands and wireless chargers, look for designs that fit your phone model and workspace aesthetics, along with considering the charging speed and the stand's stability.
9. Additional Essentials for a Streamlined Home Office
Going Wireless: Keyboards and Mice
In the quest for a clutter-free and flexible workspace, wireless keyboards and mice are indispensable. They not only free you from the tangle of cords but also offer the freedom to adjust your setup as needed. Whether you're a fan of mechanical keyboards for that satisfying typing experience or prefer a sleek, low-profile design, the market is brimming with options to suit your needs.
Dedicated Webcam for Professional Video Calls
With the rise of remote work, video calls have become a staple. A dedicated webcam can significantly enhance your video call quality compared to most built-in laptop cameras. Look for a webcam that offers high resolution, good low-light performance, and a built-in microphone for clear audio. This can be particularly important for professionals who engage in frequent Zoom meetings or virtual presentations.
Lighting Matters: Desk Lamps and Night Lights
Proper lighting is critical in a home office to avoid eye strain and create a conducive work environment. A good desk lamp not only provides focused lighting for your work area but can also reduce the glare from your computer screen. Consider a lamp with adjustable brightness and colour temperature for maximum eye comfort. And don't forget a night light for those late-night sessions – it can provide a soothing ambiance while reducing the harshness of bright overhead lights.
10. Personal Health and Well-Being: Balancing Work and Wellness in Your Home Office
Prioritising Mental Health
Working from home blurs the lines between professional and personal life, making mental health a crucial consideration. Your home office should be a space that not only facilitates productivity but also promotes mental well-being. Simple practices like organising your workspace, keeping important documents in order, and maintaining a clean and clutter-free environment can significantly reduce stress and improve focus. Additionally, taking regular breaks and setting clear boundaries between work and personal time are essential for maintaining a healthy work-life balance.
Physical Health: Beyond the Desk
While ergonomic furniture and accessories play a vital role in preventing physical ailments like wrist pain or neck pain, there's more to physical health in a home office. Regular movement and stretching exercises are important to counteract the sedentary nature of desk jobs. Consider incorporating an under-desk exercise tool, like a mini elliptical or a foot pedal exerciser, to keep your legs moving. Also, staying hydrated and taking short, frequent breaks to walk around can greatly contribute to your overall health.
Creating a Healthy Workspace
The setup of your home office can have a significant impact on your physical health. Ensure that your workspace has adequate ventilation and natural light. Plants can also be a great addition, offering both aesthetic appeal and air-purifying benefits. Remember, a healthy workspace is a productive workspace.
Setting up an effective home office is more than just arranging furniture and gadgets; it's about creating a space that supports your productivity, health, and overall well-being. From ergonomic chairs to productivity tools, each element plays a crucial role in shaping your work-from-home experience. Remember, the best home office is one that is tailored to your personal needs and work style. So, take the leap and start building your dream workspace today by checking out the best online deals and resources. Happy working from home!
Additional Considerations for Your Home Office
Embracing Specific Brands and Products
While generic advice is useful, sometimes specific product recommendations can be more helpful. For instance, if you're a fan of Apple devices, consider how products like the MacBook Air can integrate seamlessly into your home office. Similarly, for furniture, the Jarvis Desk is known for its quality and could be a valuable addition to your setup. When selecting these items, think about how they fit into your overall work environment and their compatibility with your other devices.
Saving Money While Setting Up
Creating the ideal home office doesn't have to break the bank. There are plenty of ways to save money while still acquiring quality items. Keep an eye out for sales, use price comparison websites, and don't underestimate the value of second-hand or refurbished items, especially for big-ticket products like ergonomic chairs or computer monitors. Remember, a good deal can often lead to a great work environment.
Importance of a Designated Workspace
Having a designated workspace is crucial for maintaining productivity and establishing a work-life boundary. It doesn't have to be an entire room – even a dedicated corner or a specific table can serve as your work zone. The key is to have a space that mentally prepares you for work mode and is free from domestic distractions.
Balancing Professional and Personal Life
Working from home can often lead to overworking or struggling to switch off from work mode. It's important to establish clear boundaries – have set work hours, take regular breaks, and ensure you have a space to relax away from your work area. Balancing work and personal life is crucial for long-term sustainability in a home office setting.
Mental and Physical Health Tips
Finally, never underestimate the importance of mental and physical health. Incorporate practices into your daily routine that support both. This might include regular exercise, mindfulness or meditation sessions, and ensuring you have social interactions outside of work hours. Your mental and physical health directly impacts your productivity and job satisfaction, making them key considerations in your home office setup.
Wrapping Up
There you have it – a comprehensive guide to setting up your home office. From the essentials like ergonomic furniture and tech gadgets to the additional considerations for overall well-being, we've covered everything you need to create a space that's not only functional but also conducive to a healthy and productive work lifestyle. Now, it's time to take these insights and turn your home office into a space that truly works for you. Happy working!