Choosing the right credit card seems more complicated than ever thanks to a competitive financial marketplace and diverse product developments. Fortunately, Australian banks provide credit card options tailored to suit individual requirements. Banks generally differentiate their premium credit card options according to colours such as platinum, gold or black, while lesser cards are not as imposing or opulent in appearance. Most banks in Australia and around the world advertise their black card as the premium product.
What this realistically means is that black credit cards have a higher spending limit. Black cards also come with fairly steep annual fees, greater opportunities for points rewards and a whole bunch of other perks and enticements to sweeten the deal. Banks analyse spending and repayment data when ascertaining customer value, with responsible spenders in the higher wage bracket identified as prime candidates for a black credit card.
The original black card
Every bank now has its own black credit card version, although the term 'Black Card' was the focus of a trademark dispute between competing financial institutions a few years back. It may therefore come as a surprise to know that the original black credit card is actually known as the American Express Centurion Card. This most prestigious of all credit cards is in a league of its own, and although informally known as the Black Card, bears little resemblance to other black credit cards.
For starters, the American Express Centurion Card is invitation-only, and is reserved for mega-rich individuals. Annual fees cost several thousand Dollars and card holders have no spending limit. One investor used their AMEX Centurion Card to purchase an artwork at auction valued at US $170 million.
Suitability for a black credit card
As expected with a premium product, black credit cards offer features that will result in value and savings if used wisely. There are fees involved, and although prestigious, a black credit card can be the wrong solution in the hands of a spendthrift, or when used as a means to escape from financial hardship. Therefore, it's important to know if you really do require a black credit card. There are some questions worth asking:
Is your present credit limit too low for your needs?
Do you pay off your credit card regularly?
Do you require the features of a black credit card?
How many credit cards are you using at present?
Have you researched black credit card options?
Features of black credit cards
Some investigation is required before choosing a black credit card. Features and special offers are moving with the times and banks are eager to tap in to the wealthy market sector. There may be more room to negotiate when applying for a black credit card so don't be afraid to ask for special treatment from your bank manager. Here are some black credit card features worth considering:
High credit limit of up to $100,000 in some cases
High yielding rewards and points programs
Free insurance cover
Flight and hotel upgrades
Complimentary hotel accommodation
Complimentary access to premium airport lounges
Personal concierge services
Exclusive promotions and invitations to special events
A black credit card is most useful when used for major expenses and purchases. People whose occupation requires extensive air travel, or those in the business of buying and selling on a large scale will find a black credit card invaluable, and indeed quite profitable.
Black credit cards offered by Australian banks
Australians love to accumulate frequent flyer points and miles, along with other rewards courtesy of their credit card. Australian banks entice customers with special introductory offers, low interest rates, bonus points and miles, and a host of special rewards. Here are a few (not all) black credit card offerings from Australian banks.
If you're interested in black credit cards issued by banks in New Zealand, I suggest you start with a comparison site, like creditcardscompare.co.nz.
Please note that the credit card offer details were checked on 18th November 2016 and the banks might change the details, so the below information is just a guideline, not accurate product information!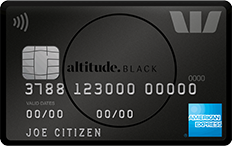 Westpac Altitude Black Credit Card
Exclusive Offer: 100,000 bonus Qantas points if you apply before 5 January and spend at least $5,000 on eligible products or services within 90 days. Other benefits include complimentary travel insurance, special concierge services and VIP airport lounge admission.
$395 annual fee
20.24% purchase rate (p.a.)
45-day interest free period on purchases
$75,000 maximum credit limit
Check details on the product page.
Commonwealth Bank Diamond Awards Credit Card
This card offers high points rewards on eligible transactions. Points are easily redeemed at a number of partner institutions including Myer and Flight Centre. A host of personalised services plus complimentary travel insurance is included.
$349 annual fee
20.24% purchase rate
55-day interest free period
Check details on the product page.
ANZ Frequent Flyer Black
This card is linked to the Qantas Frequent Flyer Program, meaning Qantas points are earned every time you use the card. 75,000 bonus points are gifted if you make an eligible purchase during the first three months after card approval. Complimentary travel services and travel insurance is also provided.
$425 annual fee
19.99% purchase rate
55-day interest free period
Check details on the product page.
If you are earning $70,000 or more per year, a black credit card could be useful, especially if your lifestyle includes a lot or air travel and ongoing expenditure.
Citi has a similarly coloured credit card, the Citi Prestige.
How do I get a black credit card?
Applying for a black credit card is conveniently performed online. Alternatively, make an appointment to speak to your bank manager or lending advisor. However, prior to taking those steps there are just a few more considerations.
Rewards programs
This is where you can get real bang for your buck. Rewards programs repay you with frequent flyer points, special gifts and other incentives. Rewards are often customisable to your own preferences and when coupled with high rewards points for dollars spent become profitable.
Complimentary extras
Take time to investigate the different deals out there. For some people, a card offering a hotel stay will be preferable to one that grants airport lounge access. It all depends on your personal style. Extras are free after all, and free equals profit when you put the card to good use.
Credit limits
Black credit cards carry a degree of prestige, and minimum credit limits are usually set between $15,000 and $30,000. Knowing how much credit access you require should be part of your equation. It's no use keeping hard-earned money tied up as a credit limit if it is urgently required elsewhere.
Special promotional offers
Promotional offers are a customer magnet, and the incentives offered are genuine value add-ons. Although most promotional offers are short term and should be weighed against ongoing fees, they can still present an opportunity to kick start your bonus points or frequent flyer savings.
You require a good credit history without recent defaults to apply for a black credit card. A minimum yearly income of $70,000 is also expected. You need to be an Australian permanent resident aged 18 or over, and will be asked to provide proof of identity, employment and income during the application process.
When all is said and done, black credit cards aren't for everyone. Annual fees range from between $350 to $700 and interest rates are at the higher end of the credit card scale. However, for some people a black credit card is exactly what's required to make their money work for them. Money well spent is another name for a sound investment, and judicious use of a black credit card can reap real rewards. For further information and special deals, contact your bank or lending institution.