All Mortgage Brokers are not born equal. Like any service business, the quality of brokers' offerings can vary from company to company and from broker to broker. This article will explore the qualities that you should avoid in a potential mortgage broker. Use this information to find a broker that will take the time to understand your situation and secure a mortgage product that's right for you.
They don't try to get to know you
It's a very bad sign if a mortgage broker doesn't try to get to know you. When you start speaking to a mortgage broker they should be trying to understand:
Your income sources
Your spending habits/lifestyle
Your current financial commitments
Without getting to know some of the nuanced details of your living situation they will be unable to find a mortgage product that's a good fit for you. This often means that they're chasing commission from their regular lender – a definite sign that the broker should be avoided.
It's good practice for Mortgage Brokers to conduct an initial questionnaire prior to your first meeting. The types of questions that your broker should be asking include:
Your occupation
How long have you worked for your current employer?
What is your salary?
What is your relationship status?
Do you have any dependents and what are their ages?
How much do you typically spend each month?
Are these costs likely to change in the near future
Negative reviews
Online reviews have been a game changer for customer service. Thanks to review sites like Yelp, Google My Business, Product Review, and more, businesses can no longer get away with providing poor service and expecting nobody to hear about it.
Before your first meeting with a broker it is imperative that you look them up online. All brokers will receive a negative review or two at some point in their career, so be sure not to throw the baby out with the bath water. A small percentage of negative reviews is fine, but be sure to avoid working with a broker that has received a series of negative feedback.
There are many review platforms that you can use to compare brokers. Which one is most useful for you will depend on your location, but here are my two favourites for Australian brokers:
Google Maps / Google My Business
You can find a Mortgage Broker's Google My Business profile by searching for their business name on Google. Results should look something like this: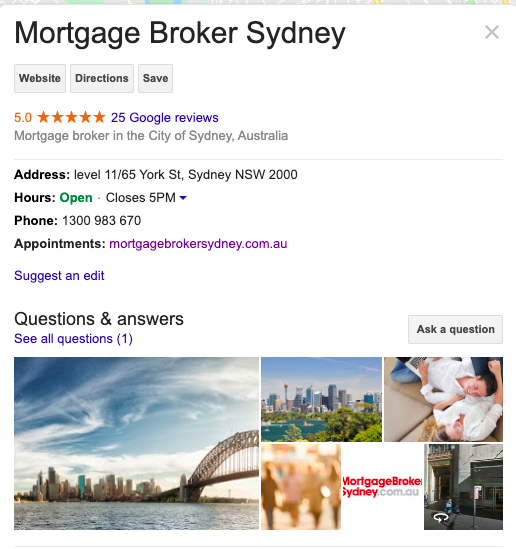 The results will be 'embedded' on the right hand side of the search results. On their Google My Business profile you can find a link to their website, a small biography about their services, and any number of customer reviews.
ProductReview.com.au
Product Review is a dedicated directory for business reviews. They use a content algorithm that incorporates millions of data points about products, brands, and members to give each review a trust factor. The review is then assessed by a team of moderators to make sure that it meets their content guidelines.
Because of this thorough process, you can be certain that the reviews published on the site are of the highest quality. Before you meet with your Mortgage Broker, type their business name into Product Review to check if they have a profile.
They are inexperienced
Having a mortgage broker with ample experience is crucial. Look for a broker with 5+ years in the industry, especially if your mortgage is under atypical circumstances, such as poor credit or a complex refinancing. An experienced broker will have dealt with clients in a similar situation as yours and will know the best route to take.
How to tell if my broker has little or no experience?
If a broker has years in the industry they'll often publish that information on their website. You can also conduct a quick Google search for your broker – this will often reveal blog articles they've written, their LinkedIn profile and more.

LinkedIn profiles are particularly useful, as they usually list the number of years they've worked at each company.
They're not transparent about their commission structure
One of the main reasons that people like to engage mortgage brokers is that their service is completely free. This is because mortgage brokers are paid a commission by the lender once the loan is secured. They may also be paid a trailing commission by the lender as you make your repayments.
It's a bad sign if a mortgage broker does not like to discuss how they get paid. If they're not 100% transparent, they should be avoided.
They don't explain all the fees associated with securing a mortgage
Because mortgage brokers are paid a commission by the lender there is often no fee associated with engaging their services. However, this does not mean that there are no costs associated with securing a mortgage. A responsible mortgage broker will make you fully aware of all of the extraneous costs associated with your mortgage.

Here is a list of the most common costs associated with sourcing your mortgage:
Borrowing costs: loan application fees, valuation and settlement fees
Stamp duty & mortgage registration fees: charged by state and territory governments
Exit or break fees: if you decide to switch lenders pay way through your mortgage your existing lender has to be compensated for any loss they incur. It's important that you receive a quote before you break your current mortgage, as the fees can be expensive.
Lender's mortgage insurance: only applicable if you're borrowing more than 80% of the value of the property
Charges for loan features: the cost of redraws in branch or online, offset accounts and package products
They have a limited lender panel
According to Canstar there are more than 100 mortgage providers in Australia. Each lender has a set of specific requirements that a mortgage broker must fulfill in order to be able to represent them.
It's a bad sign if a mortgage broker has a limited number of lenders on their panel. This means they are only authorised to work with a small number of lenders and are therefore restricted in the variety of mortgage products they have to choose from.
When working with a mortgage broker you should check two things:
They have a diverse panel.
That they regularly work with a mix of lenders from that panel – ask for a breakdown (percentages) of their most common lenders. It's a bad sign if they work with one lender too regularly.
They have all of the appropriate education/training
Mortgage brokers are licensed professionals. They must have the following:
Certificate IV or a diploma in Finance & Mortgage Broking
An Australian Credit License (ACL) – obtained through the Australian Securities and Investments Commission (ASIC). It is possible to act as a mortgage broker without a credit license, but that limits the broker to working under an organisation's ACL.
They are a member of a professional organisation such as the MFAA or the FBAA.
It is a huge red flag if your mortgage broker doesn't have the above qualifications.
They're owned by a bank
It's not uncommon for a mortgage broker to be owned by a bank. This is an issue, as the broker is much more likely to recommend a mortgage product from their parent organisation's catalogue rather than securing a mortgage product that's the perfect fit for your circumstances.
Before working with a mortgage broker make sure you check who they are owned by.
They don't have a clear complaints procedure
When you start working with a mortgage broker they should make you aware of the procedure for lodging a complaint. There are two types of complaints: i) internal and ii) external. Your mortgage broker should let you know how to make both types of complaints.
Internal complaints
Internal complaints are fairly straight forward. Most businesses will make you aware of their customer service contact number as a courtesy. Customer service numbers are a good way to get additional information about your service or to lodge a complaint if you're not satisfied. If you're unhappy with your mortgage broker this should be your first port of call before escalating to a higher authority. Most issues can be resolved between you and the broker.
External complaints
As I mentioned above, if you are unsatisfied with your broker you should make a complaint to the broker's organisation directly. If you still don't get the response that you're looking for you can make a complaint to the Australian Financial Complaints Authority (AFCA) at any time.
You can contact the Australian financial complaints authority as detailed below. The AFCA provides fair and independent financial services complaint resolution that is free to consumers.
Telephone: 1800 931 678
Email: info@afca.org.au
Website: https://www.afca.org.au
Mail: GPO box 3, Melbourne, VIC, 3001
About the author
Michael Brown – Principal at Mortgage Broker Sydney
Michael Brown is a Principal at Mortgage Broker Sydney. He's worked in the finance industry for more than 30 years and has helped countless young couples and singles access the finance they need to purchase their first home.