Picture this: You just land a great job, but it's in a different country. You make the necessary arrangements, and you move there. Problem is, you need to send money back to your country regularly, maybe to pay for a mortgage, a phone bill or your family's expenses.
Come payday, you calculate your budget and come up with the money you need to send before visiting the bank, only to find out that you lose a significant chunk of money to the bank by sending it. This is because banks do not follow the mid-market rate.
Mid-market rates refer to the value in the middle of the buy rate and sell rate for a currency. When transferring money to a different country and different currency, banks charge transfer fees and adds a margin to the exchange rate. Banks are said to charge 5-8% of the money to be transferred, and this amount is usually hidden behind the higher exchange rate.
TransferWise aims to solve all of this for you.
What Is TransferWise?
TransferWise is a peer-to-peer money transferring service that aims to eliminate hidden fees and allow people to remit money using true mid-market rates.
The fast-growing unicorn start-up is currently valued at USD 3.5 billion and is expected to continue growing. As of May 2019, the company estimates that they save GBP 1 billion in bank fees every year. It currently serves 5 million customers and is said to process more than GBP 4 billion every month.
The company is dedicated to making money transfers transparent while charging the consumer as little as possible. Best of all, it is on the mission of making premium the 'new normal'. This means providing the best service to all customers.
Who Owns TransferWise?
Co-founders Kristo Käärmann and Taavet Hinrikus started TransferWise back in 2011. It was an idea that sprouted from a common grievance: money transfers.
Käärmann used to work as a consultant for a finance company in London. The company paid him in pounds, but Käärmann had to pay a mortgage back in Estonia. So, he regularly exchanged money and sent it back home.
Hinrikus, on the other hand, was the first employee at Skype. He earned money in euros, but he needed pounds since he lived in London.
As luck would have it, Käärmann and Hinrikus met and found a way out of their dilemma.
They would check the exchange rate online, then transfer the amount from each other's Estonian or British bank accounts. This way, they skipped the part where they needed to pay fees, and instead, got their money in true mid-market rates.
Thus, TransferWise began.
How It Works
TransferWise works similarly to how the founders did it before they started the company.
The money you're sending is converted to your chosen currency. Then, the resulting amount is matched with a transfer initiated from the receiving currency or country. Technically, your money is moved to the recipient of that other transfer while the other transferrer's money is moved to your recipient's account.
This way, TransferWise can provide you conversions using the real mid-market rate and avoid the extra fees. TransferWise charges you a small fee on top, so you can see how much you're paying and how much you're sending.
Is TransferWise Right for You?
TransferWise's fees are the lowest available in the market, and the service is great for small to medium-sized money transfers. The company also offers exchanges at mid-market rates, so you no longer need to worry about hidden fees.
Forbes came up with the numbers and found out how much big money transfer services would charge for a 1,000-euro transfer, including the hidden fees in the exchange rate mark-up.
The Bank of America would charge around USD 100, Xoom around USD 55, MoneyGram USD 51.43, Western Union USD 44.12 and WorldRemit USD 18.81. In contrast, TransferWise would charge USD 11.18 for the same transaction.
With the remarkably well-made and accessible app and website, TransferWise is also very user-friendly. Registration is fast and can be done in a matter of minutes.
The company also allows you to transfer very small amounts, for as low as one US dollar, so there's a lot of flexibility for different kinds of users and purposes.
It also provides a free borderless account, which allows a user to hold accounts in multiple countries at the same time and automatically creates the necessary details for you to hold AUD, BGP, EUR, USD and NZD.
Using a borderless account, users can hold, send, receive and spend money in different currencies easily.
However, TransferWise requires recipients to have a bank account and currently does not offer cash pick-ups. This may present a challenge to developing countries where financial transactions are still largely physical or dependent on cash.
Since most of the fees are composed of fixed rates with an added percentage as the money gets bigger, the costs may eventually add up.
Quick Summary
The company is officially named TransferWise International Money Transfers. The minimum amount that can be transferred using the service is one Australian dollar, while the maximum transfer amount is at AUD 1,800,000. Preferred transfer methods include online and bank account to bank account transfers.
The company offers transfer options such as regular payments and one-off payments. It usually takes one to two business days for a recipient bank account to receive the money.
TransferWise has also applied its money transferring strategy into a service that allows immigrants and tourists to have a 'borderless account'. The account includes a MasterCard debit card that customers can use in over 40 currencies. The card does not have balance limits and has low conversion rates.
TransferWise offers customer service via phone, chat and email. It currently transacts in 40+ countries across six continents around the world.
Exchange Rates and Fees
When you send money, TransferWise charges you an amount. This amount will depend on the receiving method or bank that you choose with the addition of a low fee for the TransferWise's services. All of this information is easily visible on their website and app. TransferWise's fee is calculated based on a fixed fee and a percentage for bigger transfers.
After subtracting the fees, the remaining amount is converted based on a 'guaranteed rate', which is the mid-market rate on the day you're initiating the transfer. This rate stays fixed within the next 46 hours, during which the sender should be able to transfer the money to TransferWise via their chosen method of payment.
Supported Currencies
You can easily send and receive money using TransferWise in the following currencies: ARS, AUD, BGN, BRL, CAD, CHF, CZK, DKK, EUR, GBP, HKD, HRK, HUF, JPY, NZD, PLN, RON, TRY, SGD and USD. Customers can only send to but not receive from the following currencies: AED, BDT, CLP, CNY, COP, EGP, GEL, ILS, IND, KES, KRW, LKR, MAD, MXN, MYR, NGN, PEN, PHP, PKR, RUB, THB, TZS, UAH, UGX, VND and ZAR.
Many of these countries only allow transactions within their particular regions while some countries only transact in specific banks. Check out their website and see whether your receiving currency is available on TransferWise.
The website also features a 'currency wishes' feature, which allows people to request for a particular currency to be added to TransferWise.
Types of Transfers You Can Make
One weakness of the service is that TransferWise does not allow people to receive money directly in cash or a mobile wallet. TransferWise requires the receiver to have a bank account in their respective country, which may pose a challenge to economies still heavily dependent on cash.
How to Pay
Users can pay for a transfer via bank transfer, debit or credit card, and Apple or Android Pay.
When paying via bank transfer, users need to set up an account for international money transfer on the TransferWise website or app. Then, the user would need to pay their bank, either online, via phone banking or by visiting a branch.
When paying using a debit or credit card, users must make sure that the name of the card matches the name they indicated on the TransferWise account. You simply need to create an account, start a transfer and enter your card details. To secure your information, TransferWise encrypts your card's data and never saves CVV/CVC numbers.
Due to higher fees charged by credit card companies when processing payments, this method usually costs more than bank transfers.
Using the Apple or Android Pay method, users have payment limits depending on the country they are in. It also requires that your app is updated. Payments via Apple Pay are charged the same as cards.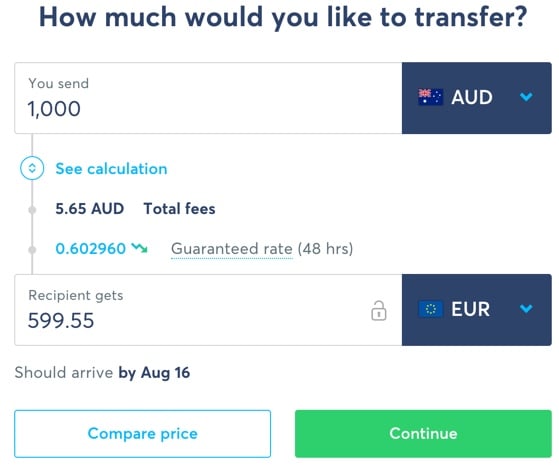 How Long Is the Process?
How fast your money can get to your recipient depends on four things.
Source and destination of the money
Converting money is quick, although it may take two business days in rare instances. However, a large part of the equation involves banks and how fast their processes are. Transfer time may be affected by banks on both ends of the transfer.
Paying with cards is quicker as the transfer is instant; however, bank transfers may take time as your bank may need to review the transaction before approving it.
The time you paid for your transfer
TransferWise is based in London, and workers are limited to normal banking hours. Transferring money on bank holidays may also affect the amount of time it will take to complete the process.
The company also spends some time verifying your identity and checking other security-related details to make sure that the transaction is secure and fool-proof.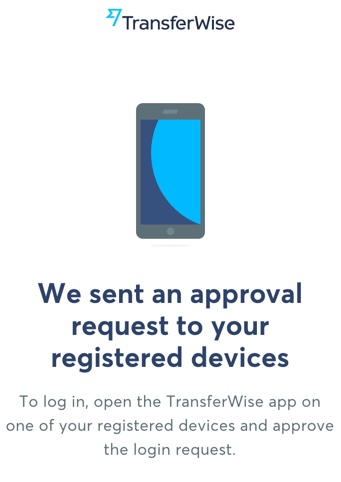 Security and Other Regulatory Information
With over 4 million users as of January 2019 and a Trustpilot score of 9.2 out of 10, TransferWise aims to provide customers with a sense of safety by acquiring accreditation and certification from the countries in which they operate.
In Australia and New Zealand, TransferWise is monitored and regulated by the Australian Securities and Investments Commission (ASIC) and New Zealand's Department of Internal Affairs. It is also registered as a money remitter with Australia's Financial Intelligence Unit (AUSTRAC).
In the United States, TransferWise is licensed in several states and is monitored by the Financial Crimes Enforcement Network (FinCEN). The company has also partnered up with Community Federal Savings Bank in the US.
The United Kingdom's Electronic Money Institution regulates TransferWise's activities in the country together with the Information Commissioner's Office.
TransferWise is also registered with regulatory bodies in Hong Kong, India, Japan and Singapore.
How to Get Started with TransferWise
On your desktop, simply go to the TransferWise website and click the Register button on the top right-hand corner of the page. You will land on a registration form where you can choose to create an account for a business or for your personal use.
Users need to provide an email address and a password. Click on the Sign Up button and wait for an email verification that contains a link to activate your account.
To make your first transfer, enter the amount you wish to send into the form. The form automatically updates with the calculations and the amount that your recipient will get.
If you wish to see the fees for other payment options, simply click on See Calculation to expand the form. Click Continue once you're satisfied with everything.
On the following page, you will have to state whether your transaction is for personal or business use. After that, you will need to enter your details, including your full name, birth date, mobile number and home address into another form. Enter the recipient's name and bank details into the next form. If you don't know the recipient's details yet, the form has an option that will allow you to enter them later.
You will need to verify your identity by uploading a government-issued ID such as your passport, driver's license or national ID card.
Finally, pay for your transfer using your chosen method.