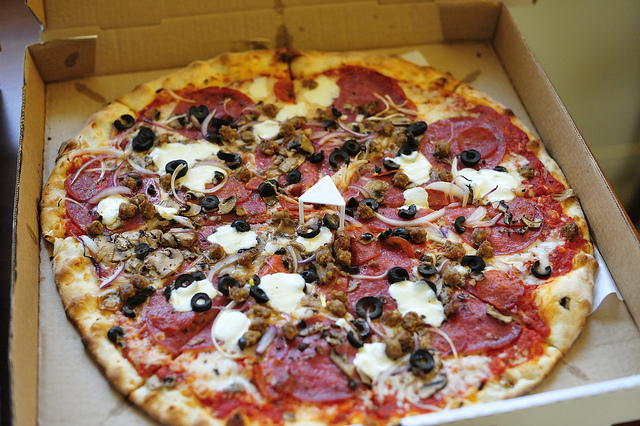 "Brick Oven Special Pizza" (CC BY-SA 2.0) by Mike Saechang
Enjoying a delicious freshly-cooked takeaway meal at home is one of life's simple pleasures. It's a moment in time when you can relax and unwind with family or friends and sample some of your favourite foods without even having to lift a finger in the kitchen yourself. Unfortunately, for people who need to tighten their financial belts to save money for a house deposit or to pay off that loan, takeaways tend to be one of the first things binned from the luxuries list. That's without even attempting to find other ways of cutting back and keeping enough cash for a couple of takeaway treats each month.
Wherever you are in Australia, whether you're saving together for your first home, buying a brand-new family car or planning that next exciting holiday, if you're fanatical about food and you still want to enjoy different flavours of the world, from the best sushi in Sydney to succulent sundaes in Brisbane, these frugal tips will ensure that you can have your cake and eat it!
Ditch the takeaway coffee habit
A report earlier this year from ING Direct found that Aussies collectively splurge $39bn a year on expenses related to their work. The national average per person is $591 per month and more than a tenth of this ($72) is spent on coffee! Instead of spending five bucks on a coffee each morning, why not take in your own box of freeze-dried coffee granules or beans? It might not be as glamorous but $72 a month could contribute towards lots of delicious takeaways!
Cut back on your alcohol
Rather more worryingly, the average Aussie is drinking five beers, half a glass of cider, three mixed short drinks, and a bottle of wine a week, according to this report. It states that alcohol consumption was up in 2016 for the first time in nine years, with the average person consuming 9.7 litres of pure alcohol in the year, up from 9.52 litres in 2015. Cutting just a few beers out of your weekly routine each week would not only improve your health but give you a fund to spend on different takeaway meals at the weekend.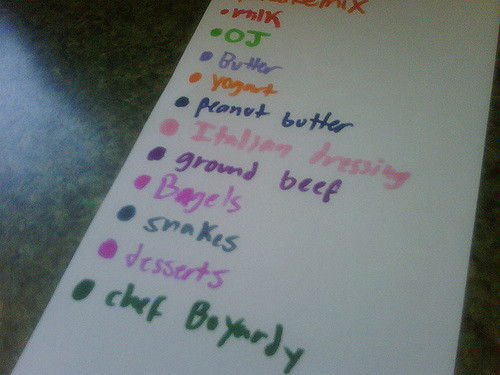 "shopping list" (CC BY 2.0) by EvelynGiggles
Introduce weekly meal menus
Impulse grocery shopping is the scourge of most family budgets. The best way to save money on your weekly shop is to write out a full weekly menu of what you're going to eat each day so that you can purchase everything you need for those meals – and those meals only!
Shop around for takeaway deals
Keep an eye out in the local newspapers and magazines for deals with your local takeaway outlets. Many will place advertisements in there when they are running time-specific discounts. Furthermore, the sheer volume of online takeaway delivery portals now means you can flick through your available restaurants that deliver to your door from your smartphone or tablet and choose the best-value deals at will.
Wash your own cars
According to data from the Australian Car Wash Association (ACWA), the nation's carwash industry is expected to be worth $585 million by the turn of the next decade. With some of the most popular car wash services costing from $40 upwards, if you can find the time to wash your own car instead and cut out the takeaways you could probably save over a hundred bucks a month at the click of a finger!
No-one enjoys having to make financial sacrifices. However, if good food is something that you and your family enjoy sharing together, then these money-saving tips will ensure you have plenty left in the kitty to get that takeaway ordered with your feet up watching the footy!