By Rhianna Dews, Money Writer at Mozo
Despite all the benefits that come with the digital world we live in today, its fast pace has ultimately led to a rapid increase in stress and anxiety, with Beyond Blue data revealing that 1 in 7 Australians are currently experiencing an anxiety condition.
What makes matters worse is the way in which Aussies are coping with the pressure. Mozo's 2019 Comfort Spending Report found that Aussies are spending $1,430 each year on average in attempts to dilute stress, boredom and anxiety. This works out to a massive total of $25.5 billion each year!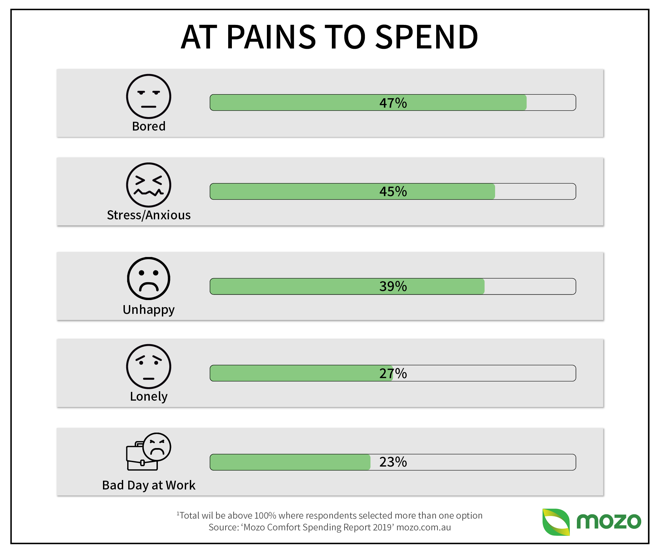 A bad frame of mind can lead to poor decision making, which is where emotional spending can occur. And with 53% of Aussies bruising their budget for a comfort spend, this seemingly harmless stress-buster could potentially lead to more stress from spiralling debt, and so a vicious cycle begins.
Now's the time to turn over a new leaf and put your comfort spending habits behind you. Take the start of the new financial year as an opportunity to reevaluate your spending habits and make the necessary adjustments to get your personal finances in order. Here are some top tips to quit comfort spending so you can put your money to better use!
How to crunch comfort spending:
Give yourself some financial freedom: Much like a crash diet can end in an uncontrollable junk food binge, an overly-restrictive budget can lead to over-splurging. The key to success in both scenarios is balance and moderation. By treating yourself here and there, you'll achieve your financial goals quicker as you're less likely to overspend due to feeling deprived.
Prevention's better than a cure: In life, stress is inevitable, so you're better off planning for it. Set aside some cash so that if you do wind up on a comfort spending spree, you won't chip into your savings and it'll have minimal impact on your finances.
Ditch the plastic: Mozo's data found that when it comes to comfort spending, 56% of men preferred to use a credit card, compared to just 42% of women. So, if you are going to drown your sorrows in shopping, avoid racking up a pile of credit card debt doing so and use cash or EFTPOS instead.
About the author:
As a personal finance writer at Mozo, Rhianna Dews arms Australian consumers with the tools needed to make informed financial decisions by turning complex finance topics and industry jargon into practical tips and tricks.